Current and Upcoming Exhibitions
Art Museum of South Texas
April 18 - August 11, 2019
CONFLUENCE: TAMU-CC ART FACULTY BIENNIAL
The Art Museum of South Texas presents these successful artists and scholars, at the forefront of their fields, building the brand of Corpus Christi as an arts destination. In the fifth incarnation of this exhibition series, Confluence, AMST emphasizes the caliber of art expertise located here in South Texas. Works include painting, sculpture, photography, ceramics, printmaking, graphics, and design work by contributing artists: Meg Aubrey, Leticia Bajuyo, Jennifer Garza-Cuen, Rich Gere, Andrea Hempstead, David Hill, Louis Katz, Nancy Miller, Ryan O'Malley, Joe Peña, Laura Petican, Barbra Riley, Greg Reuter, and Lars Roeder. Guest lecture by Carey Rote, Ph.D.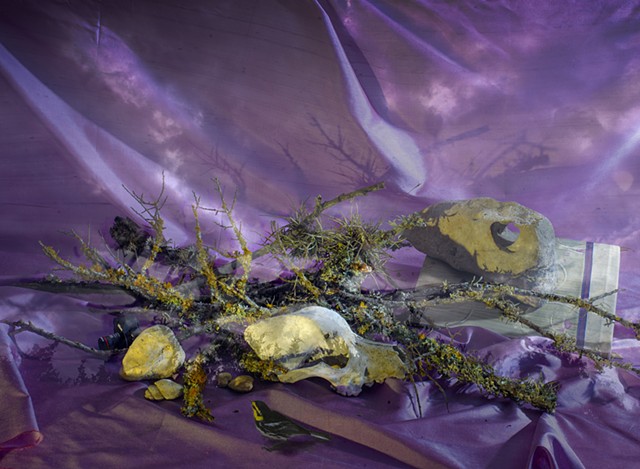 The Gift, No.5274
Archival pigment print
2019


Barbra Riley has been developing curriculum and teaching classes in photography, design and watercolor painting at Texas A&M University-Corpus Christi for over 3 decades as well as curating exhibitions for the Islander and Weil Gallery, conducting workshops in historical photographic processes, bookbinding and watercolor painting and leading classes and workshops abroad.
Riley has now retired from teaching at the University and relocated to her studio in the Texas Hill Country to work on Digital prints, Alternative Processes and Mixed media.
Riley's photographs and paintings have been included in exhibitions at the National Museum of Women in the Arts, Washington, D.C., Santa Barbara Museum of Art and Laguna Beach Museum of Art, California. In Texas, she has exhibited at the Museum of Fine Arts in Houston, Houston Center for Photography, Laguna Gloria Museum in Austin, Abilene Fine Arts Museum, and The Art Museum of South Texas as well as dozens of universities, art galleries and alternative art exhibition spaces. Currently, 18 large painted photographs by Riley are featured in the new AT&T Center Collection of Art in San Antonio.
In Texas, her work resides in numerous permanent collections including the Museum of Fine Arts in Houston, The Dallas Museum of Art, the Harry Ransom Center at UT Austin, the AT&T Center and Republic National Bank, San Antonio and The Art Museum of South Texas in Corpus Christi. Nationally, she is represented in the corporate collections of Chase Bank, New York, Kaiser-Permanente and Price Waterhouse, California.